Eight-Time Culinary Olympian, Award Winning Author, Producer & Inspirational Speaker
PODCAST
Listen in on Chef's many years of experience in his new podcast.
Join international award-winning, Culinary Olympic gold-medalist, Chef Charles Carroll in his new podcast as he journeys into the homes of some of the world's most extraordinary people, to learn their own personal and professional secrets to an outrageously successful life.
WRITES
Chef Charles Carroll is an award-winning author. Be sure to check out his books.
Chef Charles Carroll is an award winning author of Leadership Lessons From A Chef: Finding Time To Be Great and Tasting Success "Your Guide to Becoming a Professional Chef," and his latest published book, "The Recipe".
SPEAKS
As a professional speaker, Chef Carroll has been a guest at hundreds of events.
As a professional speaker, he has been a guest at hundreds of events to include ACF meetings, regional and national conventions, as well as culinary classes, colleges and universities, and multiple private and public businesses and corporations.
COOKS
Watch Chef Carroll in action in the kitchen as he cooks some amazing dishes.
Chef Carroll is currently the Executive Chef of River Oaks Country Club, in Houston Texas. River Oaks Country Club enjoys the reputation of being one of the top Country Clubs in the US. The Club has 1700 members and 75 culinary team members.
the recipe (pre-order today!)
"Always be hungry, Owen," the Chef said softly. "Don't ever let life just wash over you. Savor it–every smell, every taste, every sound. That's Rule One, Owen: Taste everything."
Owen Devon used to have a pretty good life. At least until a few months ago, when disaster struck his family. Now his grades are plunging and his life is spiraling out of control. To make matters worse, he's just been tagged for vandalism–and to repay the damage, he's being put to work for the crusty old owner of the local diner.
But there's a lot about the old man that Owen doesn't know–and in this diner's cramped little kitchen, he's going to learn a lot more than how to cook an excellent meal….
From eight-time Culinary Olympian Chef Charles Carroll and New York Times bestselling author John David Mann (The Go-Giver) comes a tale of heartbreak and redemption, the story of a boy who learns to overcome tragedy and carve out a life of excellence and honor through cooking lessons at the hands of a retired chef. Blending poignant story-telling with vivid culinary detail, The Recipe offers readers a compelling recipe for personal greatness.
Throughout the story the reader also learns key cooking concepts, cutting techniques, and other practical secrets of the kitchen. Includes a complete set of recipes for dishes cooked in the story.
Tasting Success
Tasting Success is for every student in the beginning months of their education, or every new employee just starting out in a new hospitality job. It will be an asset to any introductory course in culinary, food service, or the hospitality industry, as well as a benefit for career planning or career development courses, intern or externships, leadership, and organizational development classes, or self study.
In this book, Chef Charles Carroll expertly coaches students on how to attack their time and plan their future, while giving them encouragement and words of wisdom along the way to ensure success. With its no nonsense, upbeat, and inspiring style, Tasting Success: Your Guide to Becoming a Professional Chef outlines the most important, tangible decisions a young culinary professional can make now to achieve lifelong success, and provides the essential career map every young professional needs to travel the road to culinary career success!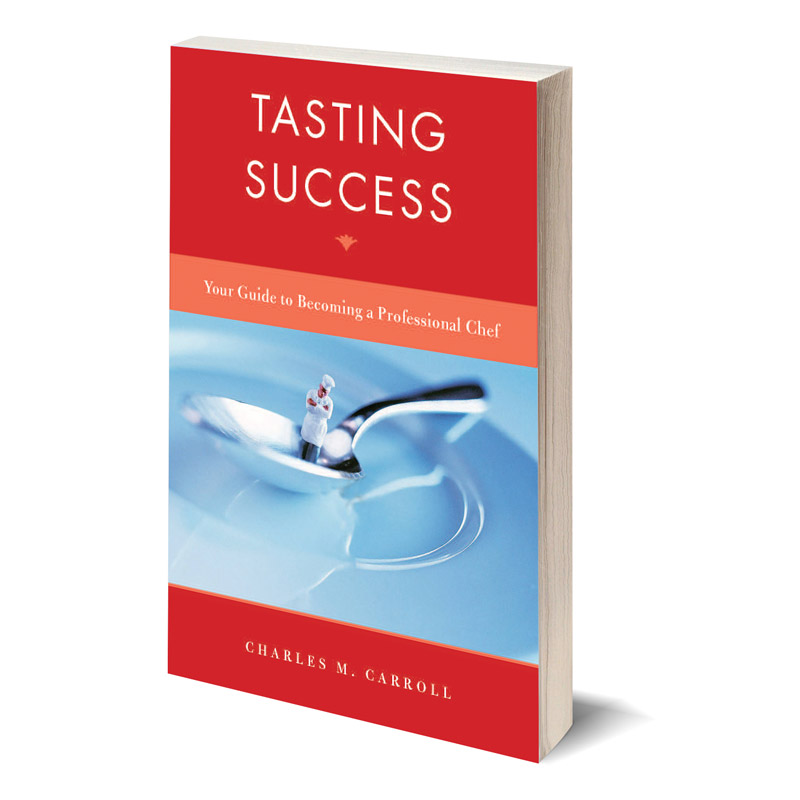 Leadership Lessons from a Chef
Leadership Lessons from a Chef is about creating excellence in the professional kitchen. Here the difference between good and great comes down to the details, and attention to these details comes from the right attitude reaching across all staff. A good culinary manager, according to author and award-winning Certified Executive Chef Charles Carroll, skillfully cultivates this attitude for success, and so leads the way toward kitchen excellence.
Using stories and examples drawn from his many years' experience, Chef Carroll gives you a leader's tour through the working kitchen. Offering proven wisdom in plainspoken terms instead of abstract management theories, the practical tools and ideas found in this groundbreaking book can be used immediately to motivate and develop an effective team environment among kitchen staffs.